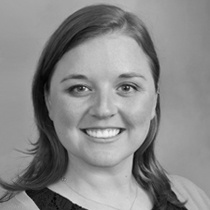 Director of Client Success

Ms. Fallon is the Director of Client Success for eVero's digitalAGENCY™ Software. In this role, she is responsible for conducting presentations and product demonstrations, client relationship management, and ensuring the timely implementation eVero's Software. She teaches client agency staff to use and understand digitalAGENCY™ through established training and change management techniques. She also provides insight into how to manage the transition and moving from paper documentation to an electronic system. Ms. Fallon also facilitates the eVero User Advisory Board (UAB) meetings.

Prior to joining the eVero team, Casey worked in the field of Developmental Disabilities, providing direct care to individuals and also working in Quality Assurance. In her time at Young Adult Institute (YAI), Casey became a Power User of digitalAGENCY™. Her expertise as a user of digitalAGENCY™ grants her a unique perspective. She can understand the struggles of the changing environment in the field of developmental disabilities, and the impact these changes have on the staff. Having worked on both sides of the field, Casey can bridge the communication between healthcare agencies and the development team at eVero, bettering the product to address their needs.

Ms. Fallon holds an MS in Industrial and Organizational Psychology from Baruch College, a Graduate Certificate in Disability Studies from CUNY's School of Professional Studies, and a BS in Neuroscience from Franklin & Marshall College. On a personal note, Casey is an accomplished triathlete and is a training coach for the Leukemia & Lymphoma Society's Team-in-Training, which has trained over a half a million runners, walkers, triathletes, cyclists and hikers and raised over $1.3 billion to fund lifesaving research.