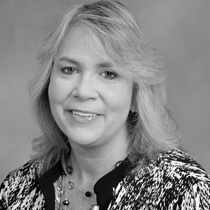 Business Manager

Ms. Azan is the Business Manager for the eVero Corporation and has been in this capacity since 2008. In this role, Ms. Azan is responsible for maintaining office services by organizing office operations and procedures, preparing payroll, disbursement of checks for company expenses, controlling correspondence, designing filing systems, reviewing and approving supply requisitions and assigning and monitoring clerical functions. Jeannine is also responsible for eVero's human resource functions inclusive of performance evaluations, hiring and ensuring employee compliance/adherence to the policies of the company. Complementing these functions, Jeannine works extensively with senior management, preparing financial reports for review and analysis. Jeannine is also a key member of the company's Entrepreneurial Operating System Committee, contributing to the development and implementation of organizational strategies, policies and practices.

In support of eVero's multi-faceted commitment to providing service to the Intellectual/Developmental Disability (I/DD) community, Jeannine leads the company's Outreach Training Program that focuses on educating persons with I/DD on entry-level computer operations. The Program's ultimate goal is for these individuals to achieve the technical competence and personal confidence to utilize these skills in the real world.

Prior to joining the eVero team, Jeannine held similar capacity positions in high profile companies including Sanctuare Quintessential Hideaways, Medallion Hotels, and Sony Music. Jeannine holds a BS Degree from the New York Institute of Technology.