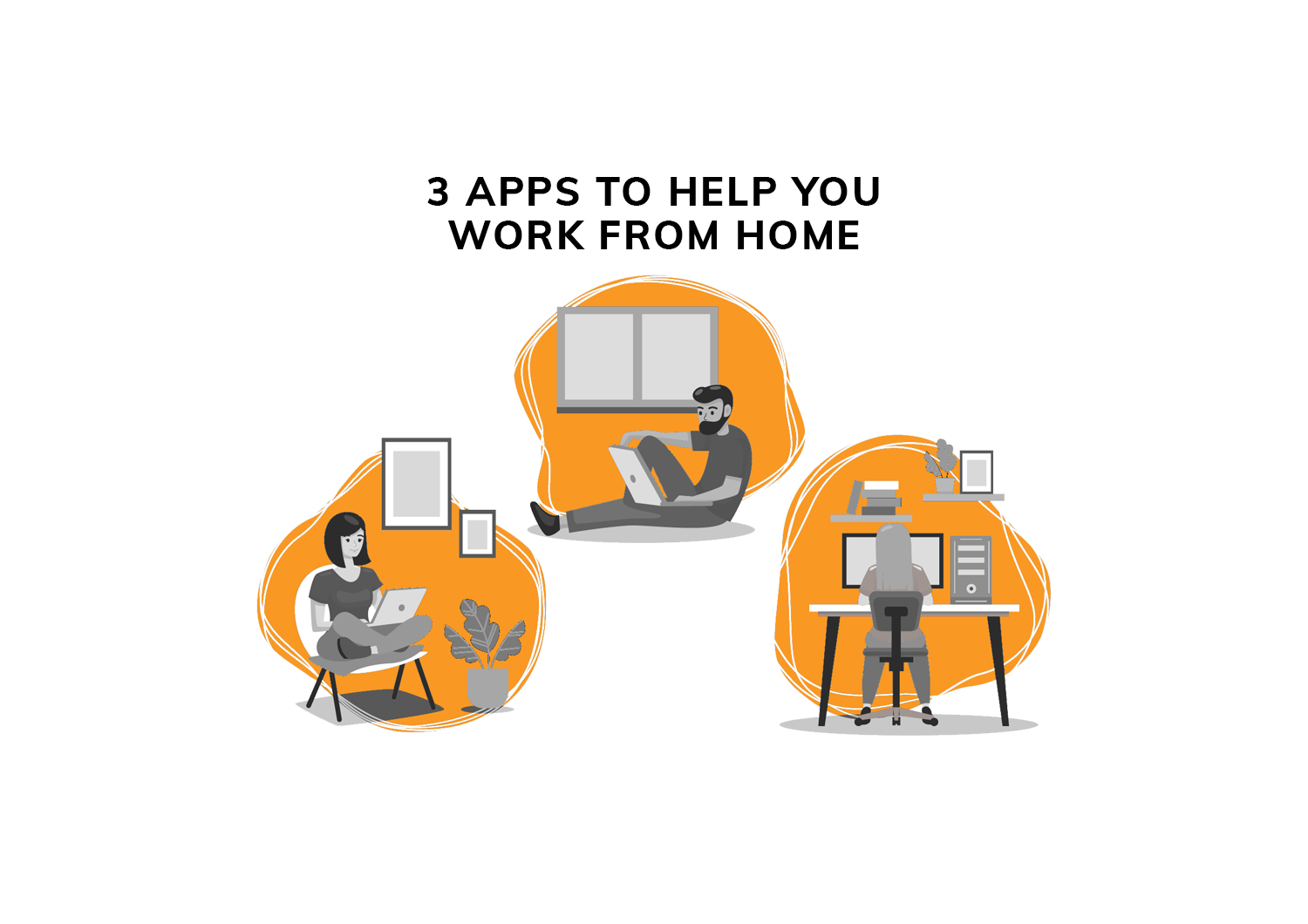 Three Mobile Applications to Help You Get Work Done From Home (or Anywhere)
Technology has made it incredibly easy to work from anywhere these days, for almost whatever career path you are on.  Usually, "anywhere" can be a coffee shop, the library, or even the warm sandy beach. However, in the current environment, it consists of only a room in your home.
Thankfully, there are plenty of apps available that can meet anyone's needs. Today we are going to cover a few apps that can assist your work from home. 

#1. Zoom
This video meeting app is super convenient when you need to hold a meeting with multiple people. It allows multiple users to connect via their phones or computers and provides exceptional video, clear audio, screen sharing and instant messaging, and file sharing that can be used cross-platform. It allows up to 100 people to join your meeting for the Basic version, and it can be connected to through multiple devices like, iPad, iPhone, other mobile devices, Windows, Mac, Zoom Rooms, H.323/SIP room systems, and telephones.
The app itself is very user friendly, and requires little-to-no skill to use. The company has ballooned overnight due to the current environment, and are helping schools and businesses across the country adjust to studying/working remotely. There are even ways to use Zoom for Telehealth and virtual care.
The only downside is that the Basic version of the app can only hold meetings for 40 minutes. (Although, there have been many reports recently that Zoom is waiving the 40-minute time limit.) Otherwise, they offer price plans to fit your needs.
The Zoom app has been a great help for eVero as we work from home. We have been using it for morning team conferences, remote meetings with clients, and internal "happy-ish hours" where we play games like Pictionary together virtually on Fridays. 
#2. Google Docs
This text editor is very solid and reliable. It is cloud-based, lets you add in images, provides numerous formats for your writing and can easily be shared with others for feedback. It offers the same convenience of Microsoft Word and Mac Pages, but can be used cross-platform and is very convenient for those users who have an older model computer or mobile device and can't afford to purchase a newer model that has the latest OS. 

Google Docs also has an offline sync feature, which is critical when working from home, since it can prevent you from losing important work if you lose internet unexpectedly.
(Note: You just have to be using Chrome as your browser for this to work.)
#3. GroupMe 
This group messaging app provides a convenient platform that allows users to form groups for whatever subject they need to talk about. It easily allows you to share images, post links for meetings, or create events through the built-in calendar. While it isn't quite a tool for business, it can help to ease the stress of working from home by allowing you to create small groups for internal messaging and sharing.  
You can also easily search for messages that you specifically looking to find, which saves a lot of time having to scroll and hunt. I frequently use this app to keep in touch with my friends and other acquaintances.
These are just a few examples of the apps that are being used for remote work during these turbulent times. eVero also makes use of other apps to assist with working from home, such as Microsoft Teams, Sharefile, and Monday.
With group communication and collaboration tools like these, working from home isn't so difficult!
________________________________
Written By: Jason Buck
This blog post was written by a member of the eVero Outreach team. The Outreach program aims to teach individuals with disabilities marketable job skills, and enable them to find gainful employment. To learn more about eVero Outreach, click here.