April is National Autism Awareness Month
The month of April provides us with the opportunity to raise awareness, educate others, and raise money for research. Communities all across the United States are engaged in raising awareness about autism and its effects, as well as the achievements of people who live with autism. Putting a spotlight on this developmental disability throughout the month of April offers hope to the people affected by this disability and lets them know that there are resources and people out there that can help them with it. 
For a little history: National Autism Awareness Month was launched back in 1972 by the Autism Society, when it first started out as National Autistic Children's Week. The Autism Society is the nation's oldest grassroots autism organization. For April 2020, they launched their new "Celebrate Differences" campaign to build better awareness of the signs, symptoms, and realities of autism. Their new campaign is focused on providing information and resources for communities to raise awareness and promote acceptance and inclusivity in daily life.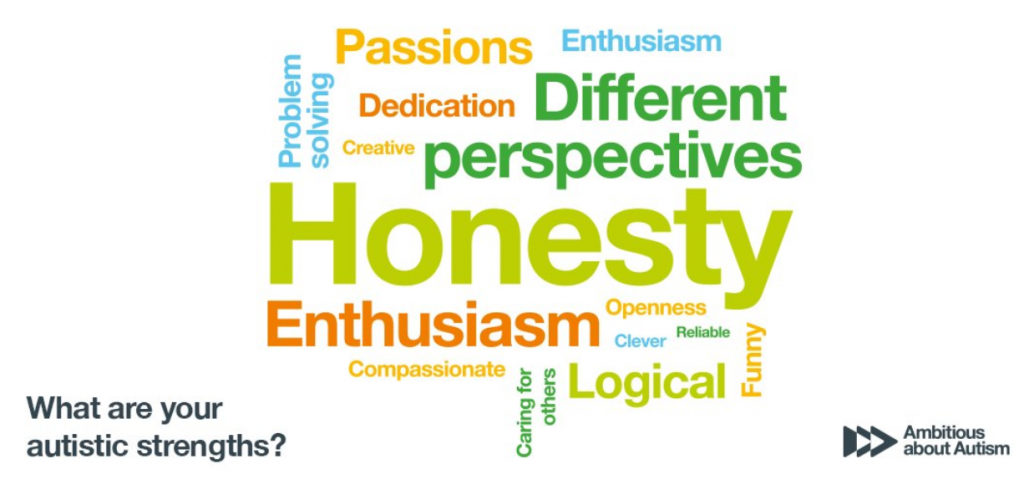 Autism spectrum disorder (ASD) affects many individuals in our country. More than 3.5 million individuals are on the autism spectrum in the U.S., and it occurs in all racial, ethnic, and socioeconomic backgrounds. We call it a "spectrum" disorder because every autistic person is different, possessing their own unique strengths(*) and challenges, and there is no "one size fits all" therapy or cure for it. 
According to the Centers for Disease Control and Prevention, about 1 in 54 children has been identified with autism spectrum disorder. Males are more than 4 times more likely to be diagnosed with ASD than females, and every year, the identified prevalence of autism in our communities rises. In the United States, approximately 500,000 autistic individuals are transitioning into adulthood, and 88,000 are on state waiting lists for housing services. These numbers grow larger everyday.
Autism awareness looks a little different this year as we deal with the coronavirus (COVID-19) situation across the world. Long Island Weekly notes that 63% of families and children with autism are experiencing a loss of care services right now, and has gathered some tips for parents supporting children with autism during this pandemic. Some organizations, care programs, and libraries are offering a number of digital resources during this time, as well. You can 'Stay at Home' with the Smithtown Library, or join The National Autistic Society's online community to share your experiences or advice. 
April is a reminder for us to stand together to support all who are living with autism, as well as their loved ones. Even when the month is over, Autism awareness should be spread as much as possible so that we can move beyond it towards acceptance.
________________________________
Written By: Jason Buck
This blog post was written by a member of the eVero Outreach team. The Outreach program aims to teach individuals with disabilities marketable job skills, and enable them to find gainful employment. To learn more about eVero Outreach, click here.