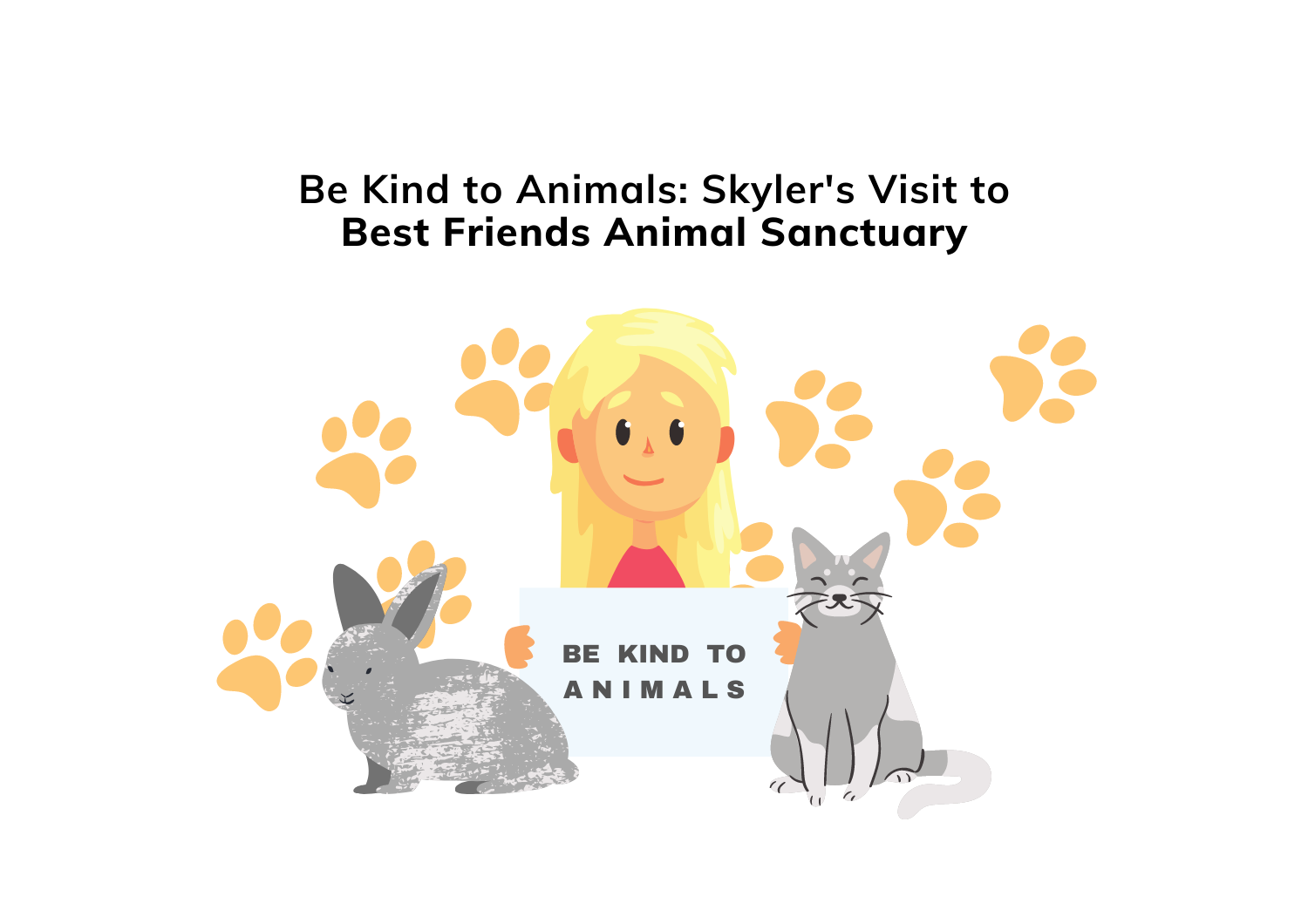 Be Kind to Animals Week spreads awareness about the importance of being kind to animals and protecting their habitats.
Skyler Azan recently visited the Best Friends Animal Sanctuary in Kanab, Utah. There, she worked with the sanctuary's animals for a week — learning firsthand about the impact a single person can have when they are compassionate and committed towards animals.
Please check out her journal below, which she compiled with experiences and photographs from her trip!
Skyler is 10 years old, and the daughter of eVero's very own Business Manager, Jeannine Azan.  Jeannine has been with eVero for 14 years. She works closely with senior management to ensure the overall success of eVero, its business operations, and every one of its New York employees. In addition to her role as Business Manager, Jeannine also leads the eVero Outreach and Engage programs.
---
My Visit to Best Friends Animal Sanctuary
I am on a volunteer trip to Best Friend's Animal Sanctuary in beautiful Kanab, Utah.  I am here to focus on my passion — animals. It took 12 hours of traveling to get here and there is a two-hour time difference from New York.  Best Friends is located on a 5,000-acre land. They own a new hotel too called The Roadhouse.
I stayed at the Roadhouse for five nights, and here is what happened during my trip.
April 19, 2022
Today was my first time on the job!  I had a cat shift. First, I swept the floor indoors and then I mopped. Then I did the same thing in the outside cat area called a "Catio". People say cleaning up cat poop is disgusting and they would never do it. But I have a passion for animals and don't care where I start even if it starts on cleaning poop. Finally, during our shift, we got to take the cats on walks but in strollers instead of on a leash!
Sadly, I have to be sixteen years old to have volunteer shifts with the dogs. However, I can have a sleep over at the Roadhouse.  Volunteers and employees can have sleepovers with animals to show a dog, cat, or bunny what it's like to sleep with a potential new owner. Today I have a dog named Ebbie in my hotel room. She not mine but I get to keep her for a night. She kind of took over my bed though… Ebbie is a lab mixed with pit-bull terrier. Ebbie is three years old and very loving with people – especially children. However, she shows aggressive behavior to smaller dogs (I didn't see aggression but the trainer told me) so she hasn't found a home. I also noticed she farts more than any other dog I've met – they are silent but deadly! Ebbie is sadly only one of the few hundreds they care for.
I worked with a lot of animals today but my favorites are Chewbacca (the cat) and Ebbie. Chewbacca is also a rescue. He's a cat with an injury on his neck. He sheds a lot and loves to play! Today was full of adventure, I can't wait for tomorrow!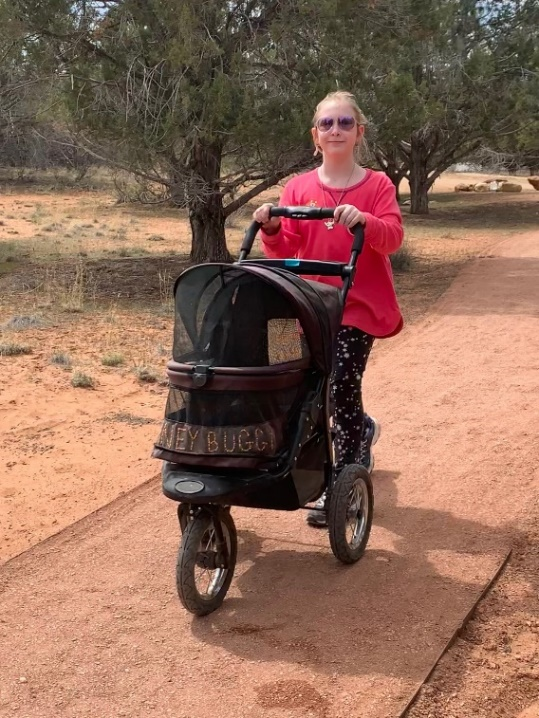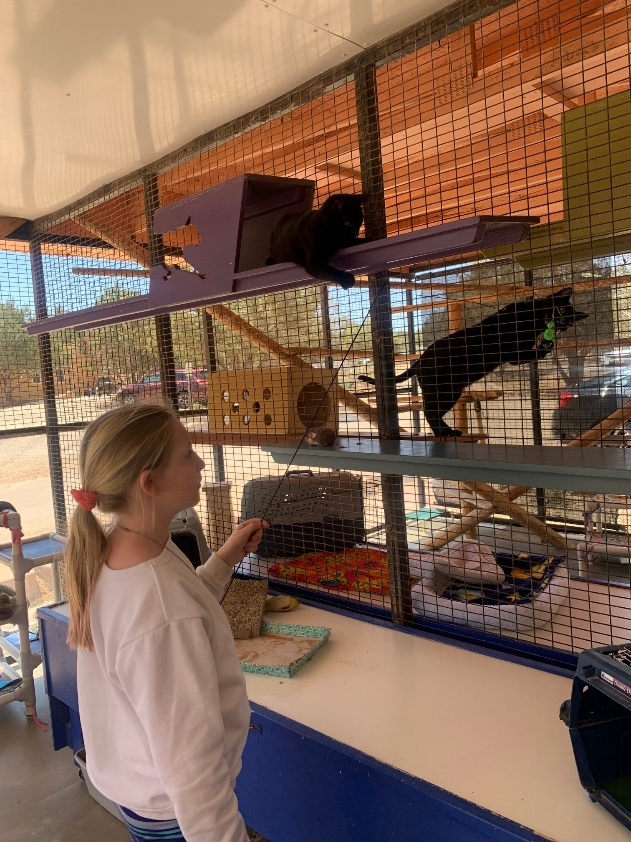 April 20, 2022
Today, I had a shift at 8:15am to work with special needs cats. Before starting my shift, I had to go to DogTown to drop off Ebbie. With each sleepover, we have to give a report on how they did with us.  We gave Ebbie a five-star review and heard some good news – she is booked for another sleepover today. Over at Cat World, my favorite special needs cat was Buffy. He was a six-month-old cat. He had a hard time using the bathroom because he was born with his rectum outside of his body. The doctors fixed it with surgery but he is not quite right yet. I spent a lot of time playing with the cats and did some sweeping and mopping as well.
Tonight for my sleepover I have a cat here named Chewbacca. He's kind and very sleepy. He's walking on my keyboard right now. Chewbacca is a long-haired cat who loves belly rubs.  He's also up for adoption and has nothing wrong with him. He's not a special needs cat. He is living at the Welcome Center because he is ready for adoption.  I bet someone a new family will adopt him very soon.  Can't wait for tomorrow!
April 21, 2022
After dropping off Chewbacca, we went off on a tour!  We went on an ATV and drove around the red desert sand. We eventually ended up on a sandboarding spot. I had never tried sandboarding before and found it easy to learn. After the sand boarding we drove to the slot canyon. We toured the canyon for about an hour before heading back to the hotel.  The canyon was very beautiful with lots of shades of red and brown.  There are some parts of rock that have never been touched by the sun and are really cold.
Then my afternoon shift, we worked with feral cats. Feral cats lived outside and are very shy around humans. My job was to play with them and spoon feed them baby food. I did this so they would feel more comfortable with humans.
Tonight I have two guests in my hotel room. Their names are Kiwi (a black bunny with half a nose and one flopped ear) and Coconut (a white and black bunny.)  Kiwi escaped and visited another bunny who bit his nose partially off. You think that would have scared him away but he went right back after getting stitches and get bit again!  Watching the bunnies eat lettuce and steal it from each other was funny.  Today was an adventure! Let's see what happens tomorrow.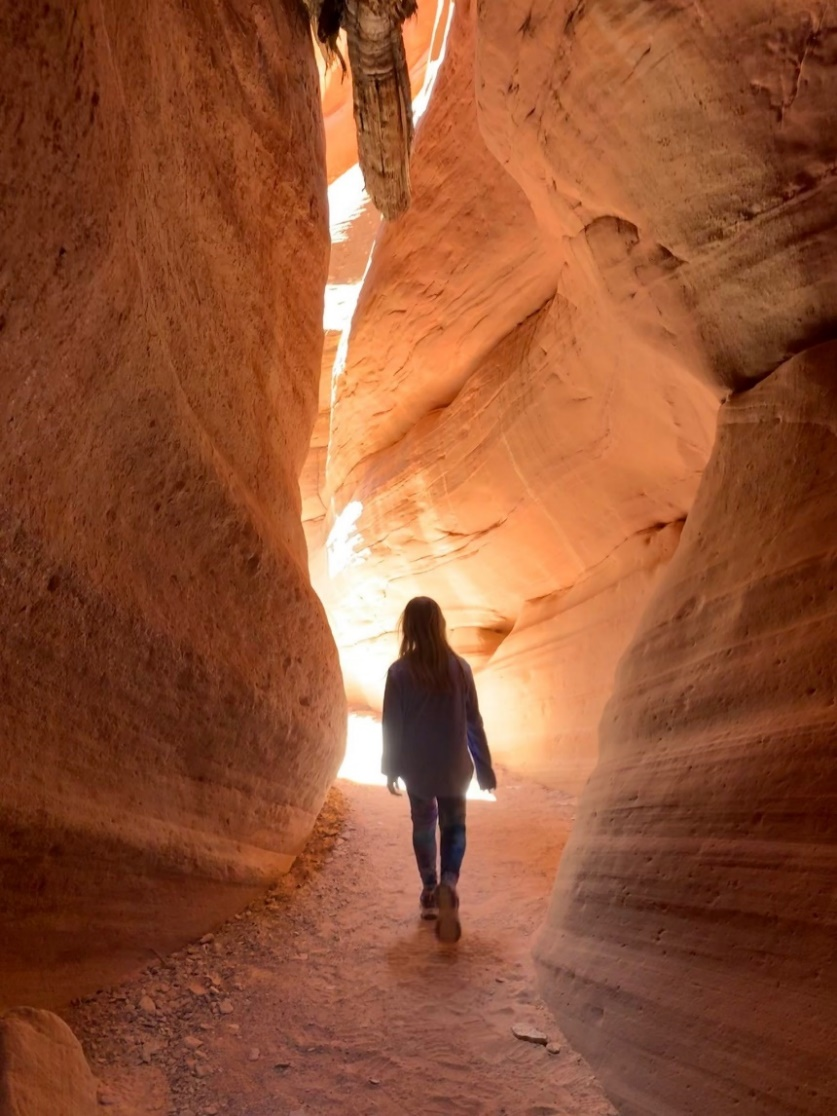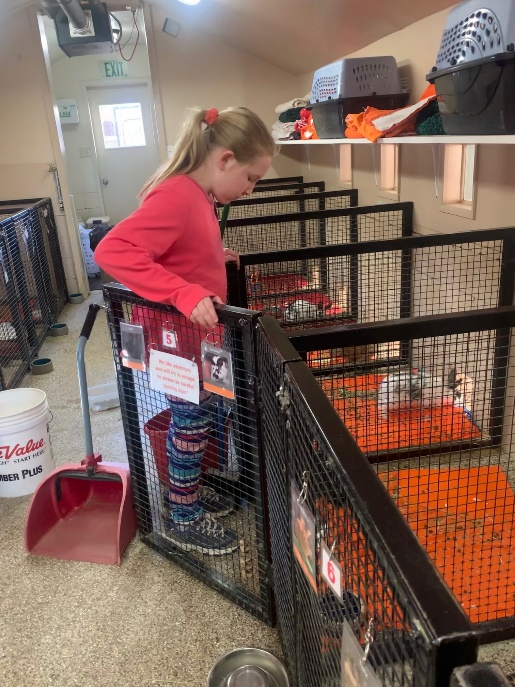 April 22, 2022
We started our morning off by dropping Kiwi and Coconut at the Bunny House. Then we headed toward Cat HQ to figure out what house we were going to. We went to Colonel's House – they had 60 cats and needed some help. As usual, we mopped and swept.  We met a cat that lost most of his tail and he looked like he had a bunny's butt.  We had to pick our final sleepover guest and were having a really hard time deciding.
That afternoon we volunteered at the Bunny House for the first time. There I saw Kiwi and Coconut!  We cleaned out a run from a pair of bunnies that had been adopted.  It had to be perfect before the new bunnies could move in. I also helped the manager give a tour of the entire Bunny House while my Mom did laundry. Feeding time was fun – I had to give out lettuce leaves from a big crate to all the bunnies.
Back at Colonel's House, my Mom went to pick up our sleepover guest.  I had chosen Scarlett who was a young black cat. But when it was time to go in the crate, she refused. Another older, chunky cat name Mr. Peabody seemed extremely interested, so she took him instead.  Mr. Peabody loved being with us – he purred a lot and loved hugs.  He liked to slide under the bathroom door to say hi when we were in there. We learned later on that Mr. Peabody's owner had passed away and he was at the sanctuary for two years.  I sure do hope he finds a home – he was so sweet.
Tomorrow is the day I leave, so I have to say all my goodbyes at 2:00pm.  Sadly, that includes, Ebbie, Chewbacca, Kiwi, Coconut, and Mr. Peabody. It will be sad, but I know I helped them a lot. I am part of their journey to find their forever home.
April 23, 2022
Today, we returned Mr. Peabody to Cat HQ and then we started our final shift at the Bunny House. My Mom and I worked hard that morning – we cleaned 16 bunny runs. After cleaning we gave them all fresh water and hay. Rabbits don't have long necks so you have to fill their water bowls to the top.  Then I helped the manager interview a family who was interested in adopting Kiwi and Coconut. I told them about my experience with the sleepover.
I said my goodbyes to all the special people and animals I met, and we started the 4-hour drive back to Las Vegas airport. When we arrived in Las Vegas my Mom surprised with a visit to the Pinball Museum.  (They have about 100 pinball machines and other games too. My favorite game like a Whack a Mole but with alligators. I also liked the Monopoly pinball machine.)
Then we went to the airport, checked our bags, and went on our 5-and-a-half-hour red eye flight back to Newark, then we drove back to Levittown!  It was a long journey but worth it.
I learned many things. But something I'll never forget – volunteers are not paid, but that's not because they are worthless.  It is because they are priceless.
I can't wait to go back to Best Friends Animal Sanctuary again sometime soon!
---
Written by Skylar Azan, age 10.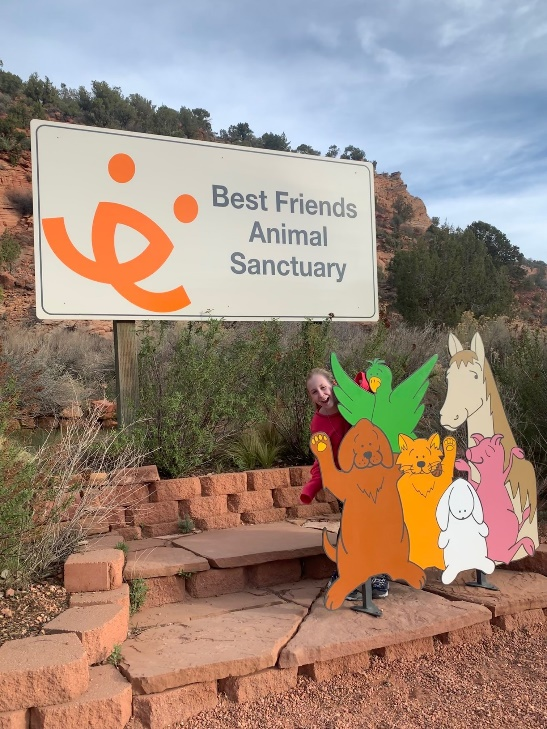 A few more photos from my trip: