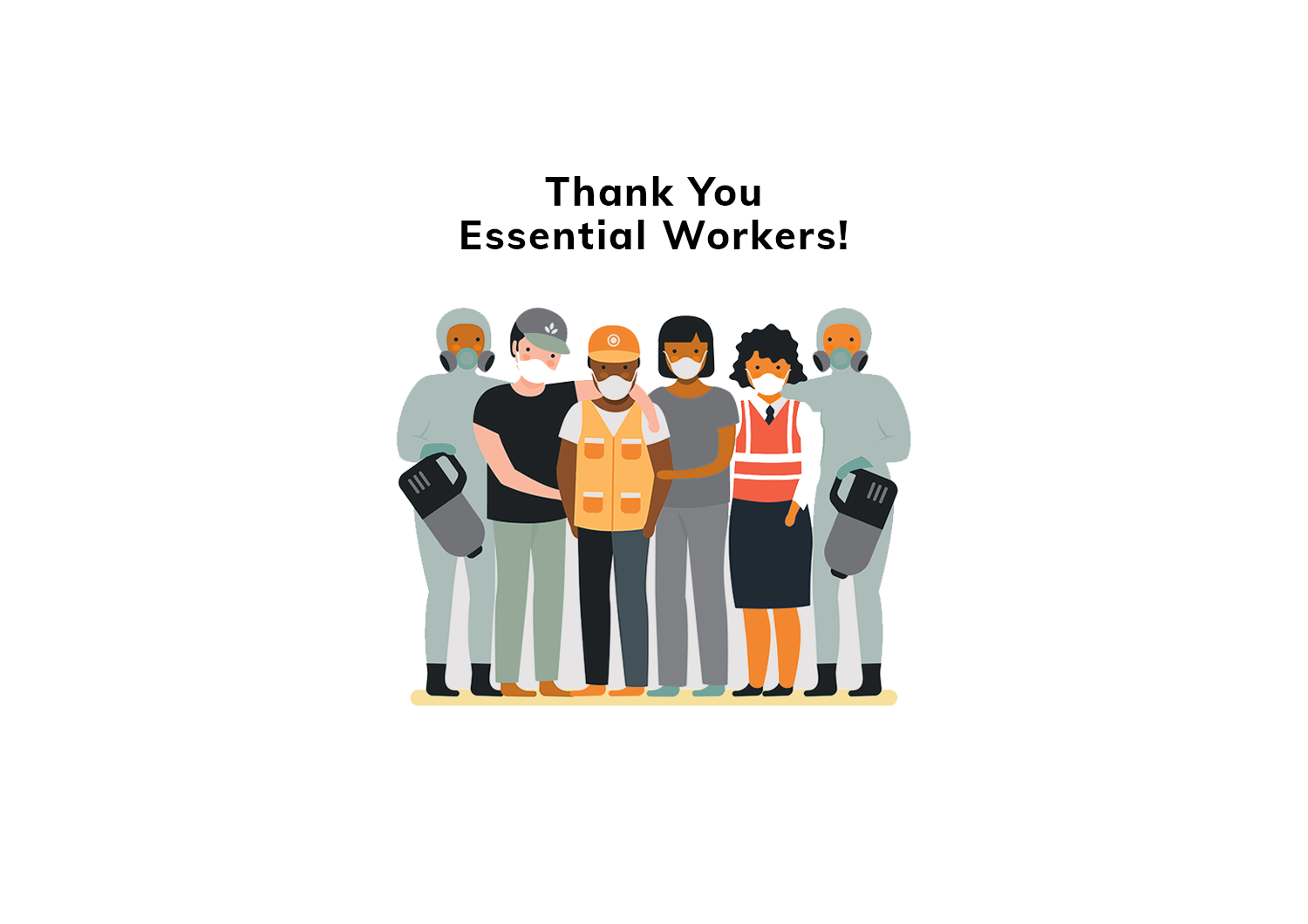 When the Covid-19 Pandemic first struck last March, there was one widespread group of people who stayed calm and collected. This wide group of people went straight to work urgently to help out our communities and keep things running properly. Essential workers worked around the clock, helping those in need and showing extreme dedication to their roles.
50+ million Americans are considered essential workers – or workers whose duties are considered critical for maintaining our country's infrastructure. These everyday superheroes helped keep the USA running during the height of the pandemic, and tirelessly showed their dedication to helping others.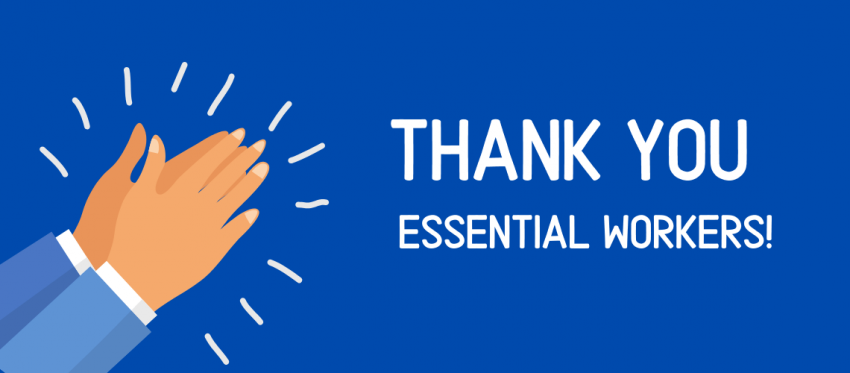 Essential workers handle jobs across a wide range of critical categories, including: Infrastructure, City Services, Child Care, Education, Agriculture & Food Production, Water and Waste Management, Energy Management, Health Care and Emergency Services, Critical Retail (such as grocery stores and mechanics), Critical Trades (such as construction workers and electricians), Transportation, Science/Research, Healthcare, and Social Service Organizations.
Essential Workers in Critical Trades
Construction Workers have been trying to get their jobs done and focus on their products for renovation and development within communities. During the height of the pandemic, they had to restrict their access to reduce the number of people in enclosed spaces – making things more difficult. Mitigating the spread of COVID has been a team effort for construction workers as they build homes, make new roads, and work on other essential projects for a brighter future.
The Sanitation workers are always working taking out the garbage and recycling to eliminate residential waste and throw it away throughout the week. They don't take days off, even during the pandemic – which threatened their health and safety while trying to keep things clean for the rest of us.
And their energy never wavered: During the pandemic, some sanitation workers would stop and engage with people on the street who were spreading words of kindness. Before continuing their sanitation journeys, many would stop and make people laugh, or spread good vibes and togetherness in other ways.
A new sculpture was recently unveiled, titled "New York's Strongest", in honor of the sanitation workers that we lost in 2020 and 2021.
Gas Stations always remained open throughout the pandemic, as well. No matter what else is happening, people need to fill their vehicles with gas, and the gas station clerks were responsible for keeping their workplaces safe. Gas station workers interact with the public on a daily basis, making sure the rest of us can gas up our cars and pick up some food.
Essential Workers in Transportation
People who work in Transportation are those who always drive people around the area and never took days off. Bus Drivers, Taxi Drivers, Ferry Boat Drivers, Ride Share Drivers, Pilots, and Train Conductors are some key examples of transportation workers. The transportation workers especially felt the stress of the pandemic this year, as their livelihood depended on driving others around – which was unsafe by definition.
Meanwhile, Truck Drivers often work long hours, and are away from home for days or weeks at a time — under normal circumstances! Truck drivers often drive coast to coast around the nation from harbors delivering goods, or pick up different goods at warehouses to drive to a specific location. Truck drivers often spend their lives driving for long periods of time to driving to their destinations, and get very little rest or vacation time.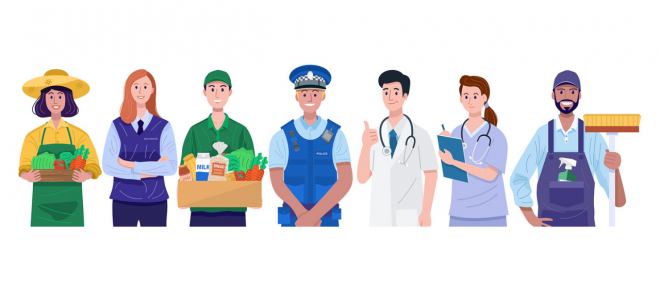 Essential Workers in Food Production
Farmers always work their way through the day and can't afford to get sick, since their food production takes care of the rest of us. With their agriculture and domesticated livestock, farmers are essential because they ensure food makes it to local areas and grocery stores. I personally believe farmers should get better pay, because they work all year around – and during the pandemic, they did so with the weight of the world on their backs, and never stopped working hard at their jobs.
People who work in the Food Service industry didn't give up during 2020 and 2021, and made food for people who couldn't leave the house – sometimes putting themselves in danger to help take care of the people around them.
Line workers and chefs prepared food for their communities, helped deliver it to frontline healthcare workers, and never took a break when things got most difficult. Restaurants are struggling with business now more than ever due to the quarantine procedures, but others have found a way to save their business by focusing on takeout and delivery orders. Others still opted to add outdoor dining to their restaurant, because they can attract customers and it would be helpful to avoid the spread of the virus.
Delivery Workers are always running around 24/7, but during the height of the pandemic, this was even truer! With many restaurants closed, food delivery was the only real option for many people. Meanwhile, people also couldn't visit stores in person – and were getting a greater number of items shipped from online orders.
Essential Workers in Education
Teachers and Professors had one of the most difficult jobs all year. While many didn't have to go in-person to school and put themselves in physical danger, many others did. Meanwhile, educators were forced to switch all of their lessons to hybrid of online-only, relying on virtual learning tools like Zoom, Microsoft Teams, and Google Classroom. This made it very difficult to provide quality education to their students.
The students also experienced difficulty, but it was the only way to educate the class and continue learning. Sadly, few of the students couldn't afford to get computers or laptops which makes learning very complicated for those who don't have one. Before the academic school year came to an end, many districts across the country worked very hard to secure laptops and other technology for their students so that everyone could continue their education, no matter their circumstances. Teachers have proven to be essential for the future of our youth this year more than ever.
Essential Workers in Healthcare
Scientists are the people who worked the hardest on finding the cure to the Covid-19 Pandemic, while also finding other strategies to keep the public safe. Scientists helped teach us about mask-wearing, hand-washing, and social distancing. It took months of research and observation for scientists to figure out how to best handle the spread of the virus.
And where would we be without all the Healthcare Workers after the last year? Doctors, nurses, pharmacists, community health workers, and EMTs proved to the backbone of our healthcare system, going above and beyond for patients in need – while putting themselves at risk. Many nurses contracted Covid-19 right at the beginning of the pandemic, when they didn't have the proper PPE to keep themselves protected at work.
Around the clock, there were many essential workers at Covid-19 Testing Sites, helping to manage the spread and testing of the virus – as well as the immunologists who helped to provide the vaccines at clinics.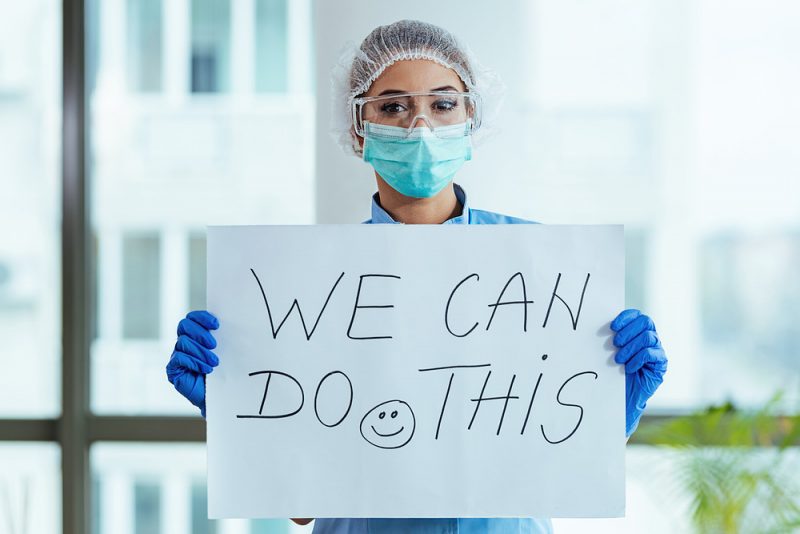 Thank you to the Essential Workers who have kept us all going strong!
On Wednesday, July 7th, 2021, NYC also honored essential workers with a ticker-tape parade as way to say thank you for their incredible bravery and dedication.
In the united fight against Covid-19, it was the essential workers who made all the difference. Essential Workers are all the people who work tirelessly on the frontlines – in their own unique capacity and roles – and continue to help assist others for a better future.
________________________________
Written By: Scott Weisbrot; edited by Jessica Zarrillo
This blog post was written by a member of the eVero Outreach team. The Outreach program aims to teach individuals with disabilities marketable job skills, and enable them to find gainful employment. To learn more about eVero Outreach, click here.