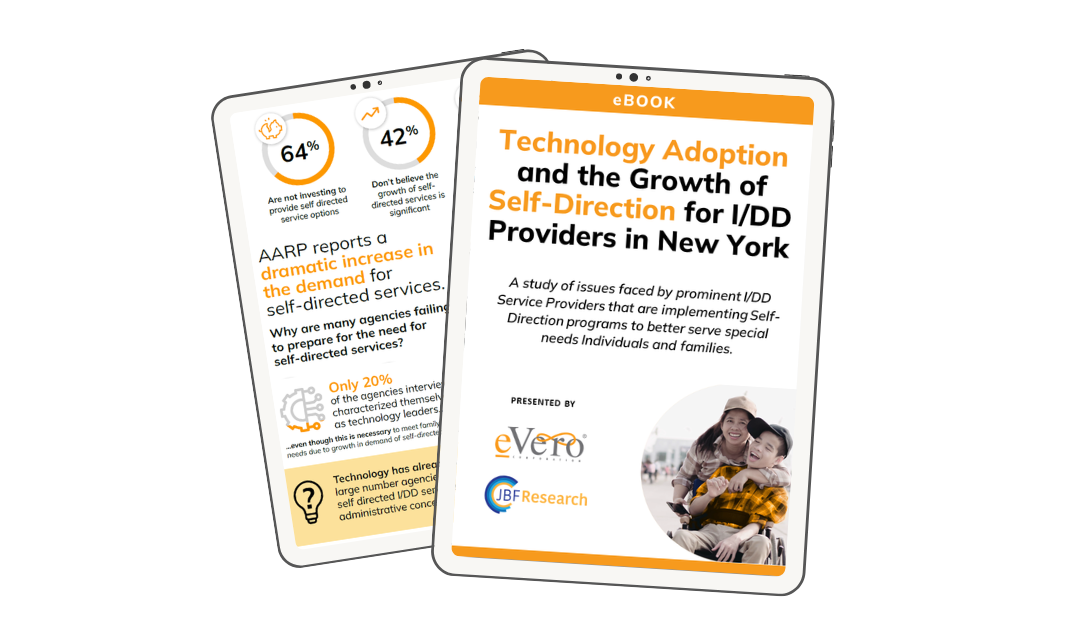 April 19, 2023; Melville, N.Y. –  eVero Corporation ("eVero'), the leading software solution provider for the Home and Community-Based Services (HCBS) sector, today released the results of an industry survey about the issues faced by I/DD Providers in implementing and managing Self-Direction programs to better serve special needs Individuals and families.
The findings are derived from a ten-question telephone survey commissioned by eVero and conducted by independent analytics firm JBF Research.  The respondents were Self-Direction leaders from a variety of respected provider agencies across New York State.
"Over the years we've developed a deep understanding of the challenges that our clients face while managing all the moving parts required for Self-Direction," stated Christos Morris, CEO and President of eVero. "These survey results reinforce these challenges, and also identify some areas of opportunity for our industry."
Prominent areas covered in this survey include:
Cost and benefits of Self-Direction programs
Challenges Providers face when implementing Self-Direction Programs
Increased demand for Self-Directed services
Technologies required to reach diverse populations and communities
The research also documents the changing views on how technology helps providers implement, support, and grow Self-Direction programs, and how it can enable data-driven decision-making while improving team communication, transparency, data accuracy, and even DSP worker satisfaction and retention.
Jay Jablonski, Co-Founder of JBF Research, added, "In the weeks since the survey results were released, over 70% of the requests have come from C- and Director level executives. That suggests that eVero is offering the industry valuable, actionable insights on Self-Direction program management.  The fact that the research results are offered without charge provides an opportunity for improvement in operational efficiency for every Self-Direction provider."
The e-book detailing the findings of this survey can be downloaded, free of charge, at www.evero.com/SDS_ebook .