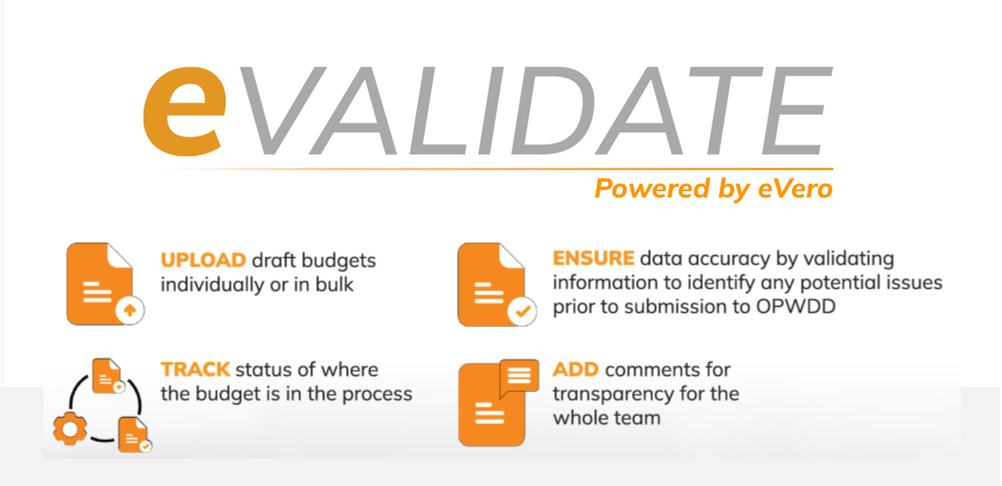 July 1, 2023; Melville, N.Y. – eVero Corporation, a leading software solution provider for the Home and Community-Based Services (HCBS) sector, recently introduced eVero eVALIDATE™, a new online tool designed to help agencies manage the requirements and timeframes associated with New York OPWDD's Self-Direction Cost of Living Adjustment (COLA) retroactive rate increase.
eVero eVALIDATE™ provides Agencies the insight and organization needed to efficiently manage the documentation and deadlines associated with the rate adjustment process. Users upload Self-Direction draft budgets, individually or in bulk, to the eVALIDATE™ platform, where all data is verified for accuracy before submission to OPWDD. From there the system tracks the status of each budget through each stage of the approval process and allows comments to be added throughout, providing the highest level of transparency possible for all team members.
"OPWDD announced the COLA adjustment on June 15th.," stated Christos Morris, Co-Founder and CEO of eVero. "In less than a week, our Product and Software Development teams gained a full understanding of the required deliverables and developed a dynamic solution to help our clients meet the stated August 1st deadline. The teamwork displayed by our employees was off the charts! Rolling out a solution of this type in such a short timeframe is an amazing accomplishment of which we all are incredibly proud."
Existing eVero clients have been using eVALIDATE™ since it was launched. And, as a service to the community, eVero is offering it free of charge to any New York Agencies managing Self-Direction budgets, even those that are not eVero clients!