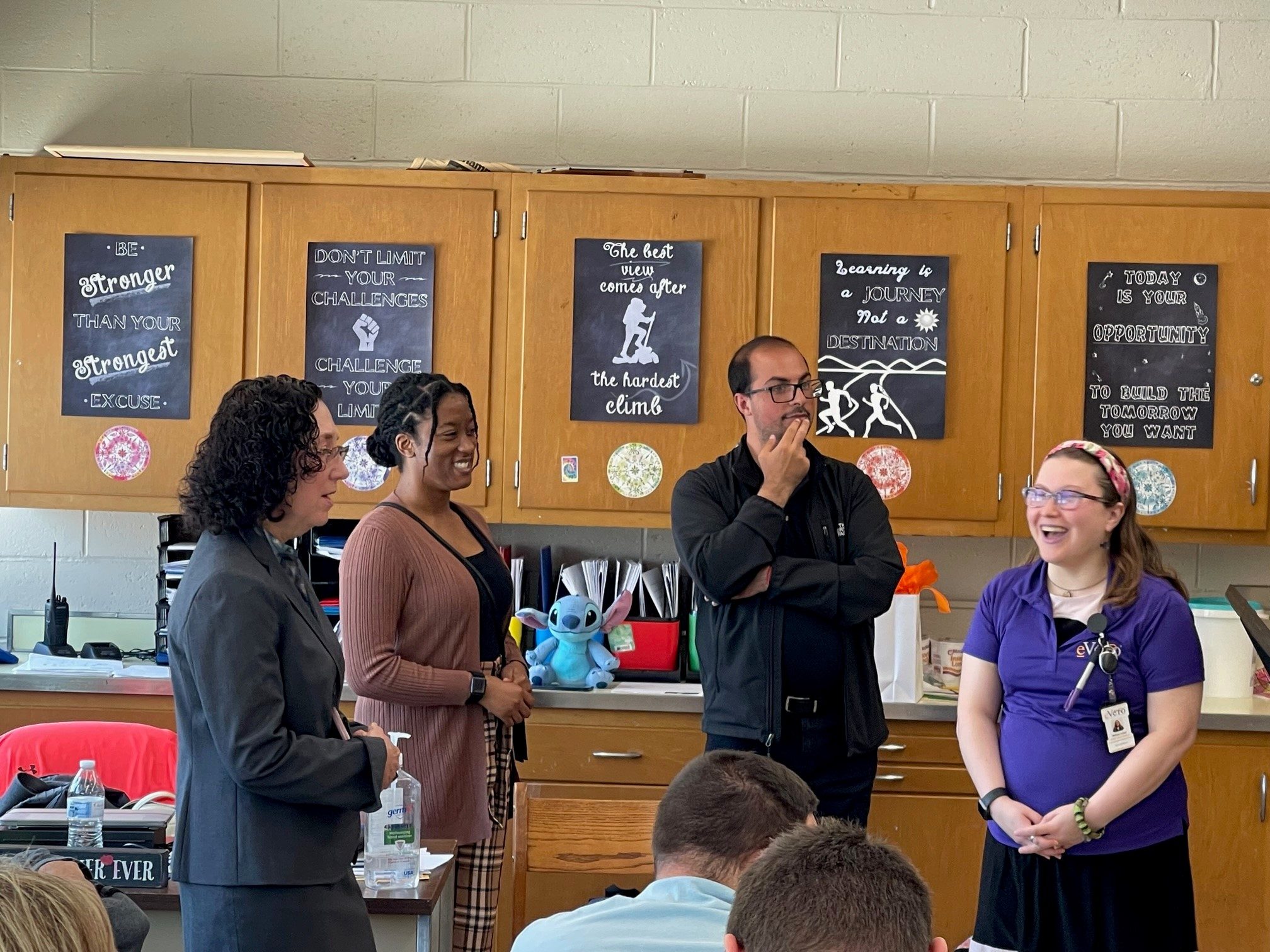 By: Melissa Longo, Support Triage Technician
During my time at eVero, I've been fortunate to be a part of many brilliant eVero Outreach events. Just last month, on May 31st, we held a Hire Me! seminar at the Prep Academy in Bellmore-Merrick. We all dressed in our very best, and we got to interact with amazing young adults who are on their way to graduating and becoming a part of the workforce.
Our talented Project Coordinator Yvonne Ince made sure that we were a well-organized team for that day, conducting meetings, providing input on our speeches, and making sure that we were prepared, confident, and weren't too nervous!
The first keynote speaker of the morning was eVero's Business Manager Jeannine Azan, who shared an insightful slide deck outlining the steps of the interview process with a reminder to do your homework on any companies where you are interviewing.
Next, my eVero colleague Joseph Malebranche and I discussed our backgrounds and job search experiences and played a fun interactive game with our audience. In this game, which we named eVero Interview Pursuit, we both asked questions to our audience about the do's & don'ts of interviewing techniques, and those with correct answers won prizes.
The last keynote speaker of our wonderful program was eVero's Tier 2 Software Specialist, Keibway Greaves. He provided tips on making a good first impression, stressed the importance of practicing good care, and gave some helpful reminders like bringing two forms of ID with you to the meeting.
My absolute favorite thing about that day was learning more about the Community Cupboard that they run, which provides food items to members of the community. In fact, eVero donates items collected at our annual employee food drive to this special place! The students at the Prep Academy run this as one of their work tasks to gain experience. They are more organized than anyone I have ever seen!
For further details about our Outreach programs, please go here: eVero Outreach
"The format was excellent and so much fun for the students. It's always wonderful having Joe as an alumni teach the information peer to peer…the students loved the beautiful portfolios they received. We cant wait to work with you again next year"
– Cheryl G, District Transition Coordinator