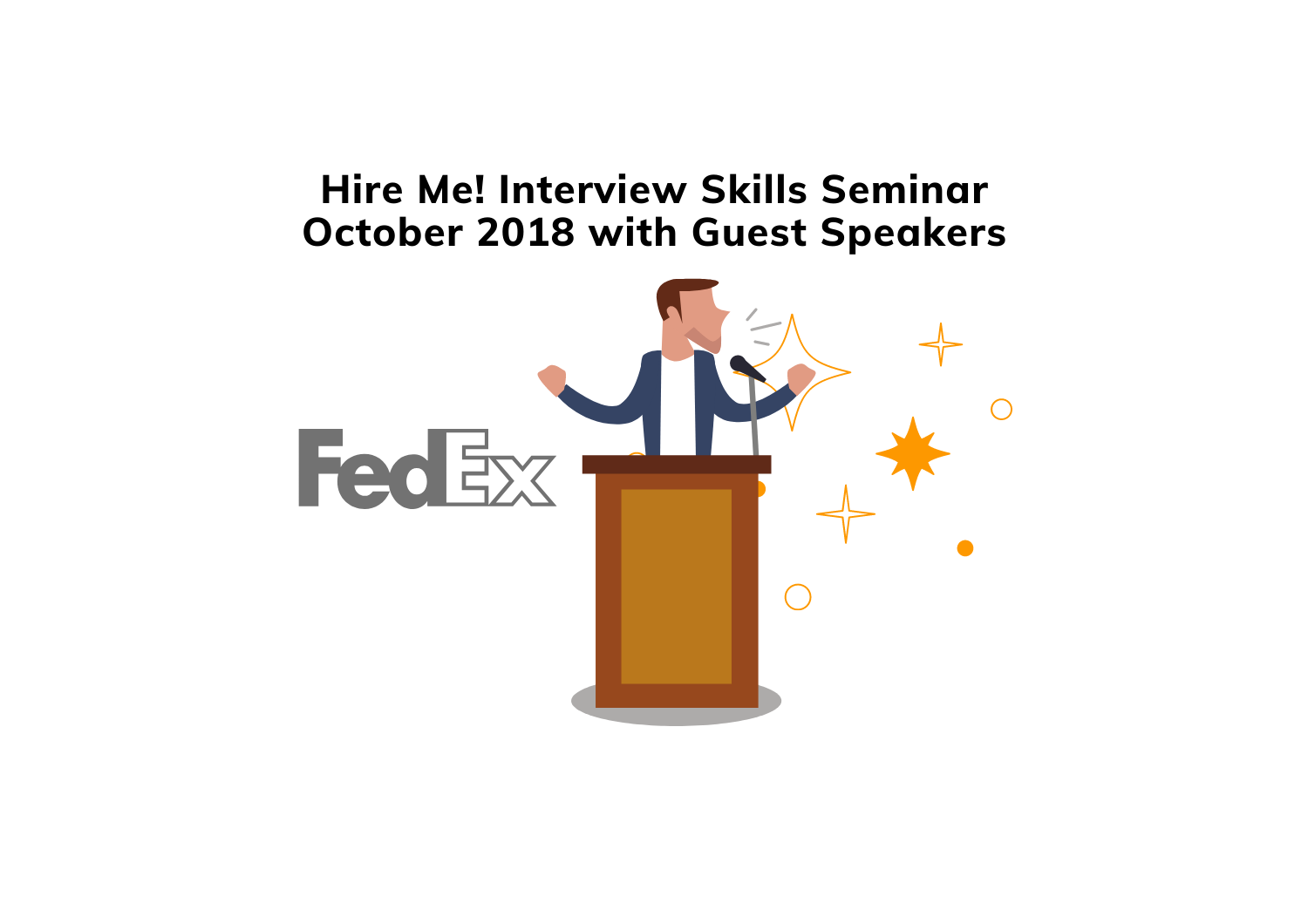 On Wednesday, October 17th, eVero Corporation had the distinct pleasure of having two guest speakers join us for our Fall 2018 Hire Me! Interview Skills seminar. Our guest speakers, Mike D'Ambrosio and Tom Hand, came to share their professional expertise and guidance with our Hire Me! students from TRI Business & Career Training Center and Calhoun High School.
Mike D'Ambrosio, Senior Manager, has worked for FedEx for over 20 years; first as an Operations Manager, and now as a Senior Manager with the company. Meanwhile, Tom Hand, Senior Manager, has been with FedEx for almost 35 years, working at seven facilities throughout his career. He is also the Town Councilman of Oyster Bay, New York. Mike and Tom's combined experience as high-level managers working for a big corporation provided the class (and the rest of us!) with an unmatched perspective in professional success.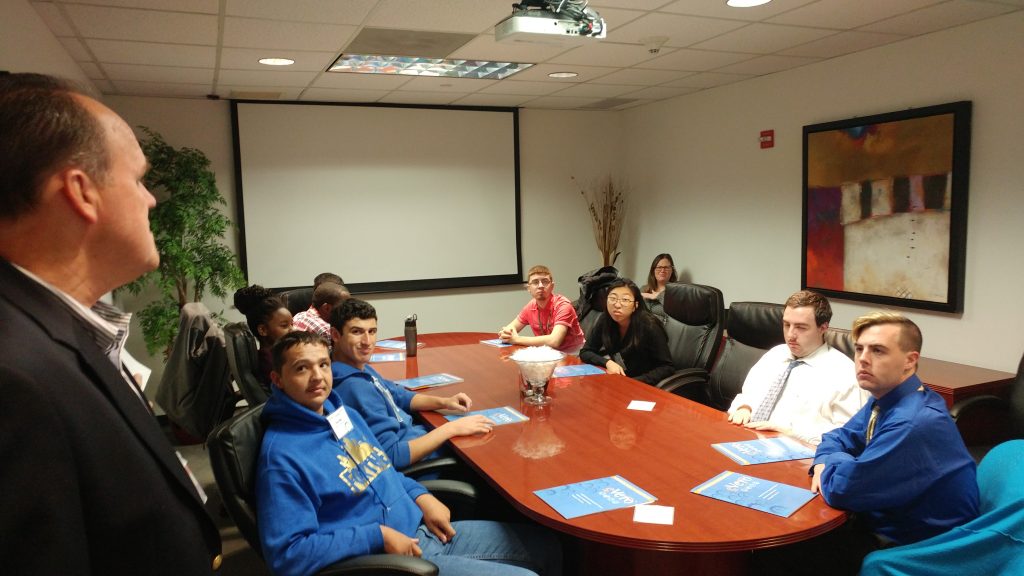 Mike D'Ambrosio (top) talks to our class about being a Senior Manager at FedEx; Tom Hand (bottom) discusses both his time with FedEx, as well as his experience as Town Councilman. 
These gentlemen covered a range of varied topics, ensuring that the students left with well-rounded information. They began with tips for effective resume writing, which common resume mistakes to avoid, and how to perform a job search. After this, Mike and Tom moved on to job-hunting tips, and interview preparedness. They walked through common interview questions with the class, and also made sure our students knew how important it was to follow-up appropriately after the conclusion of an interview.
At the end of the day, our students from Calhoun High and TRI left with great advice and valuable knowledge. Mike and Tom also presented us all with informative booklets, titled Preparing for the Job Interview, so that the class could take home and privately work on the topics that they covered.
Some of eVero's favorite take-aways from Mike and Tom's guest lecture:
Writing tips, tricks, and things to avoid. It's not just your resume that should be organized and professional; practice writing cover letters – and learn how to contextualize it for every single job. Present your most relevant qualifications, and show how well-rounded you are as a candidate.
Build a network and learn to follow up with people in it. Professionalism doesn't always begin and end in the interview room. Mike and Tom stressed the importance of networking, and how to professionally follow-up with your network.
Be careful with social media. Know what's appropriate, how to behave, and how to protect yourself. Understand that, once something is on the internet, it's there forever. Think before you post, be responsible, and work hard to uphold a professional image of yourself.
Organize and prioritize your tasks. Set reminders in your phone, learn to use a calendar, and keep in mind the Four D's of prioritization: Discard, delay, delegate, and DO.  (Which tasks can be removed? Which can be put off for a time, and which can be entrusted to others? Whatever's left, you do first.)
Body language is essential. Minimize your fidgeting, and maximize your eye contact as much as possible. Always remain professional, and never seem too lax.
Ask your interviewer questions at the end. Make sure you do the right amount of background research on the company, but ask relevant questions that might arise – such as what a typical day in that role might be like.
Identify (and be) good managers. Remember the most important thing about being a good manager is knowing that you need your employees. Success is found as a team; not by yourself.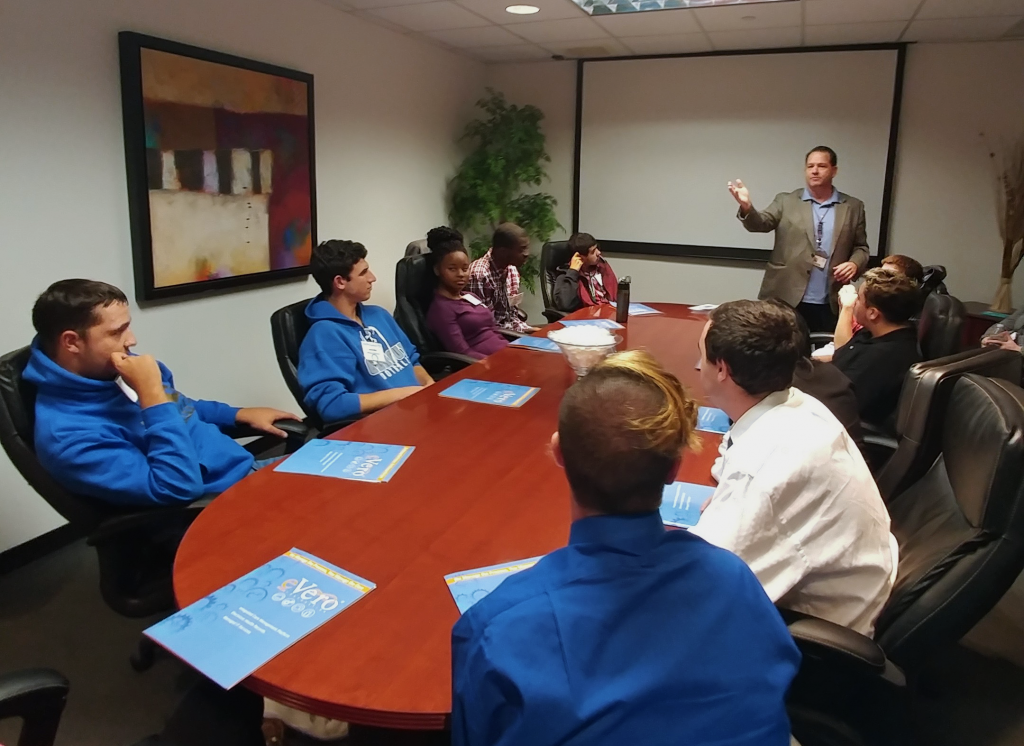 One of our eVero Outreach instructors, Jonathan Feldman, also shared a few thoughts about Mike and Tom's guest lecture:
Hi eVeryone! Jonathan reporting again for Outreach News!

Today's headline: FedEx Managers Deliver Interview Tips.

Recently, managers Michael D'Ambrosio and Tom Hand from FedEx stopped by to speak to our current Hire Me! class about their experiences, both with hiring others, and with getting hired themselves. They talked to the class about so how to prepare for an interview, and the importance of dressing for success with appropriate business attire – even if the job position is casual. Michael and Tom then explained what to expect going in to an interview, like understanding that the process usually begins by meeting with a company's Human Resources department.
After all this, they took questions from the students. The answers are expected to arrive in 3-5 business days. (Just kidding! Their answers to our questions were great, too.)

The staff and students are all grateful to Michael and Tom for taking the time to deliver their words of wisdom with us. We hope that they can come again!
We're incredibly thankful that Mike and Tom were able to take time out of their busy schedules to join us and deliver their guest lecture last week. Everyone who had a chance to hear them speak about their first-hand professional experiences – from the students, to our Outreach team – was able to learn so much.
As a testament to this, our students from Calhoun High School and TRI Business & Career Training Center impress us more and more each week.
We can't wait to see what this group of students will achieve, and we extend our most heartfelt thanks to Tom and Mike for helping to prepare them for the business world.
______________________
Written By: Jessica Zarrillo, with excerpt from Jonathan Feldman 
This blog post was written by members of the eVero Outreach team. The Outreach program aims to teach individuals with disabilities marketable job skills, and enable them to find gainful employment. To learn more about eVero Outreach, click here.