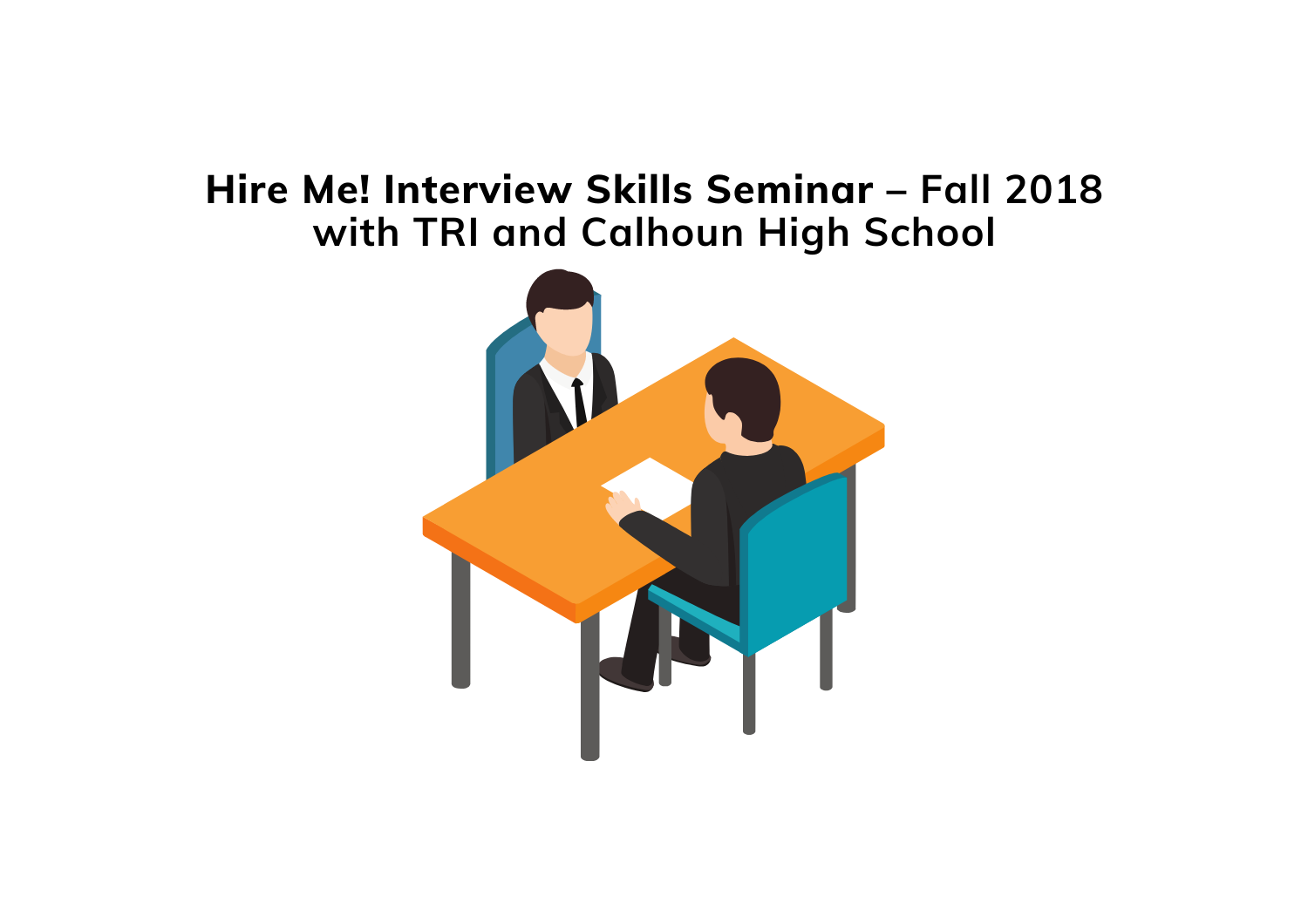 Last month, eVero Outreach wrapped up our Fall 2018 Hire Me! Interview Skills Seminar. This seminar ran for 7 weeks, and included some exceptionally-driven individuals from TRI Business & Career Training Center and Calhoun High School.
On October 17th, our class was joined by Senior Managers from FedEx, Mike D'Ambrosio and Tom Hand. Mike and Tom shared their experiences as high-level managers working for a big corporation, and taught our students tips, tricks, and best practices for the workplace. You can read all about the class, and the professional tips they shared from their lecture, by checking out our blog post from a few weeks ago.
We were also fortunate to host another pair of exceptional guest speakers. On November 7th, we were visited by two more managers from FedEx Express: Nanette Malebranche, Managing Director, and Victoria Hope, Operations Manager. Nanette and Victoria put our students to the test, challenging them to demonstrate and expand upon the materials they'd learned so far in our course.
The class began with a series of tricky quiz questions in Kahoot! about interview preparation. Then, Victoria and Nanette conducted a dynamic group discussion based on the course material. During the discussion, they asked for participants to come up in front of the class, one at a time, to demonstrate what they learned. The students impressed us as they confidently and skillfully handled the mini interviews.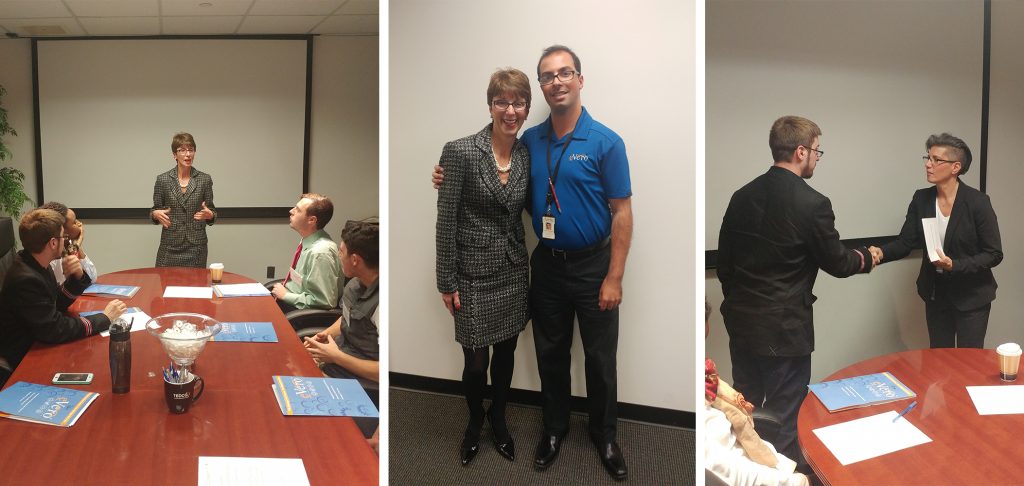 Our students from Calhoun High and TRI learned so much from our guest speakers! Thank you to Nanette, Victoria, Mike, and Tom for joining us and helping to prepare our class for the workforce.
In the weeks following and in-between, we worked to teach our students how to excel at each phase of the job application and interview process. Our Outreach team – consisting of Joseph Malebranche, Jonathan Feldman, and Ronald Torres – took turns leading the class discussions, moderating the role-playing exercises, and checking homework assignments. Meanwhile, as the Outreach team managed the class, eVero executives and staff enacted one-on-one mock interviews with each of the students.
Each and every week, these students came in and exceeded our expectations with their drive and professionalism. In less than no time, the students had sharp resumes to share, as well as great answers prepared for all of the common interview questions. Within a few short weeks, the students were able to handle all of Ronald's 'curve-ball' interview questions and even outscore Jonathan in Kahoot! quizzes. And by the end of the 7-week seminar, our students had grown tremendously in their professional confidence, proving themselves to be interview masters.
Judy Blake, Employment Training Specialist with the "Prep for the Future" Vocational Training Program at Calhoun High School, sent us an especially kind letter at the end of November:
We feel (our students) learned a tremendous amount of quality and valuable information to prepare them better for interviewing. Mock interviewing with your executives and your outstanding guest speakers was such a wonderful added bonus!
The students you were teaching are all in their final year of high school, and are all part of the Employment Training Program through the Office for People with Developmental Disabilities. They are rapidly preparing to enter the adult world, and your efforts are a big contribution to that.
For our Outreach team, there's nothing more rewarding than knowing we've helped a group of young adults feel more confident with themselves as they enter the workforce. We're so thankful for the opportunity to have helped train and teach the students from Calhoun High School and TRI Business & Career Training Center. It was a distinctive pleasure for us to grow alongside this incredibly bright and determined group of students.
Warmest congratulations to our new graduates! You've made us so proud!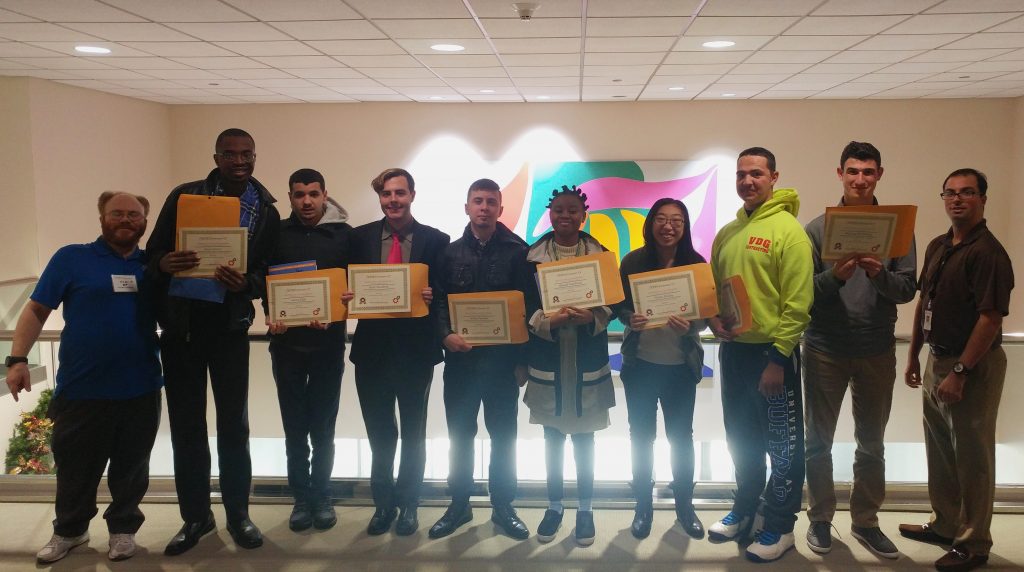 ---
Written by Jessica Zarrillo