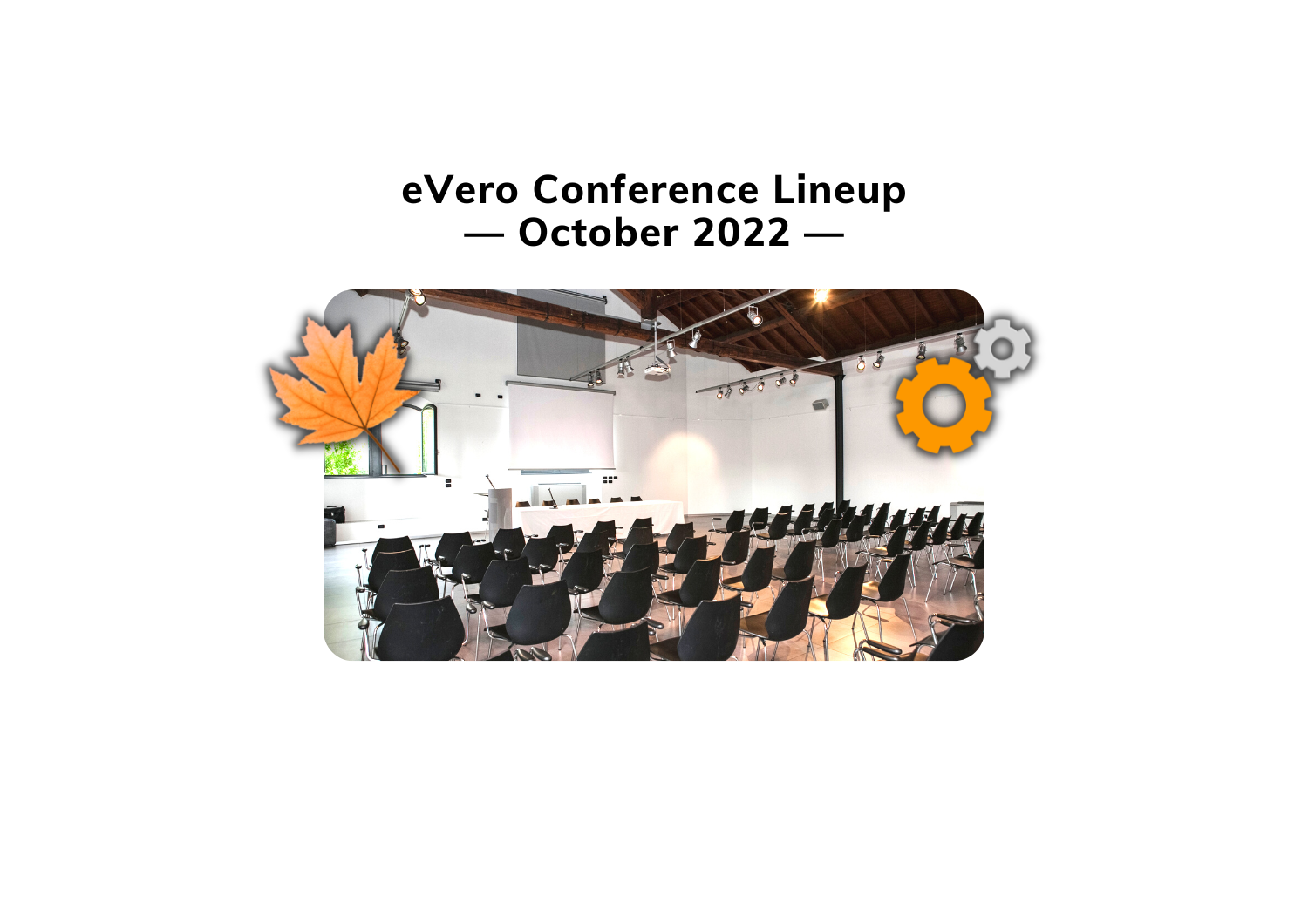 As autumn's chill rolls in, eVero is gearing up for a busy conference season. We take off on the road next week, and will be attending four major conferences this October!
Let us know if we'll be seeing you out on the road this month.

October 11-13, 2022
2022 Annual RCPA Conference: "Together!"
Conference Website • Full Agenda
eVero is thrilled to be attending the 2022 Annual RCPA conference, 'Together!', next week. This 5-day event in Hershey, Pennsylvania will feature more than 65 workshops, keynote speakers, and panel discussions on an array of topics — including workforce development, strategies to recruit and retain talented team members, the movement towards telehealth, and trauma-informed support for all walks of people who have endured the pandemic.
Rehabilitation and Community Providers Association (RCPA) is among the largest & most diverse state health and human services trade association in the nation. RCPA advocates for those in need, works to advance effective policies, & services as a forum for the exchange of information and experience. RCPA provider members offer mental health, drug and alcohol, intellectual and developmental disabilities, children's, brain injury, medical rehabilitation, and physical disabilities and aging services, through all settings & levels of care.
October 17-18, 2022
2022 New York Alliance Conference: "Living & Working in the Community"
Conference Website & Working Agenda
The 'Living & Working in the Community' conference hosted by the NY Alliance is focused on housing, employment, and Self-Direction. Held in the Gideon Putnam in Saratoga Springs, NY, this conference features collaboration, information sharing, and best practices for FIs and Self-Direction in New York State.
The New York Alliance for Inclusion and Innovation (NY Alliance) serves as a catalyst for positive change and leading resource for individuals with disabilities, their families, and the organizations supporting them through advocacy, education and training, technical assistance and practice improvement, and advancing sound public policy. The NY Alliance core values include community, leadership, collaboration, integrity, and equality.
October 24-26, 2022
2022 Annual CP of NYS Annual Conference: "On the Track for Success"
Conference Website
The 2022 CP of NYS Annual Conference occurs at the Saratoga Hilton, and will feature informative sessions and workshops on a wide number of topics pertaining to I/DD advocacy and services, including Residential Services, Day Programs, Assistive Technology, Education, Health Care, Clinical Services, Communications, Development, Finance, Management, and more. This event provides an opportunity for staff, volunteers, people receiving supports, and their families to come together for the exchange of ideas and learning new skills.
The Cerebral Palsy Associations of New York State (CP of NYS) aims to provide for the exchange of ideas, education, and communication between groups of people interested in advocacy for people with cerebral palsy and developmental disabilities. They provide statewide leadership, support, and coordination for the efforts of local organizations, and constructive influence and access to the process of governmental change, policy-making, legislation, and regulation.
October 26-27, 2022
2022 Annual CDPAANYS Conference: "Leading the Way"
Conference Website
The 2022 CDPAANYS 'Leading the Way' conference prioritizes education and collaboration, and will occur at the end of the month in Troy, NY. This conference will feature 12 breakout sessions, and focuses on building a self-directed future through the advancement of support for consumer-directed and self-directed services throughout the states of New York.
The Consumer Directed Personal Assistance Association of New York State (CDPAANYS) supports consumer-directed personal assistance providers and recipients in all counties of New York State, offering supportive services including (but not limited to) advocacy, systemic change, and the promotion of consumer control and self determination. CDPAANYS works closely with the New York State Department of Health to build CDPA, and fights for many of the rights and freedoms enjoyed by consumers, personal assistants, and fiscal intermediaries.

Where will you be seeing eVero on the road this autumn?